Would you rather listen instead? Click here for a 5-minute audio recording
Last March, COVID-19 turned the speaking world upside down when everything became virtual. While I was already doing some video presentations, I certainly wasn't doing every single one that way! Recently, I upped my game and set my office up for virtual speaking.
The foundation
We live in an 1100 square foot house with two bedrooms, one of which was my office. After a few months of being home-bound, it was evident that even when a vaccine is discovered, I won't be traveling as much as I used to. Conferences, events, and meetings will continue to sometimes be virtual or a hybrid event. I also knew that I couldn't continue my current set-up for another year.
We invested the money and remodeled our house to flip our bedroom and my office. I moved from a smaller room with poor natural light to a room with three windows and more space. I can't believe it took that long to realize that we only slept in our bedroom, yet I was in my office 8+ hours a day!
We replaced the flooring and covered one wall with shiplap from Home Depot. It is beautiful and provides a nice, neutral background. My background before was purple photo paper in my logo color, but it severely limited what I could wear. I had to have it behind me because the alternative was people seeing my closet and door. Not an ideal scene, and as a speaker, I can't use a virtual background because it looks unprofessional, and when I would move, I would lose an arm or get blurry.
Furniture for virtual speaking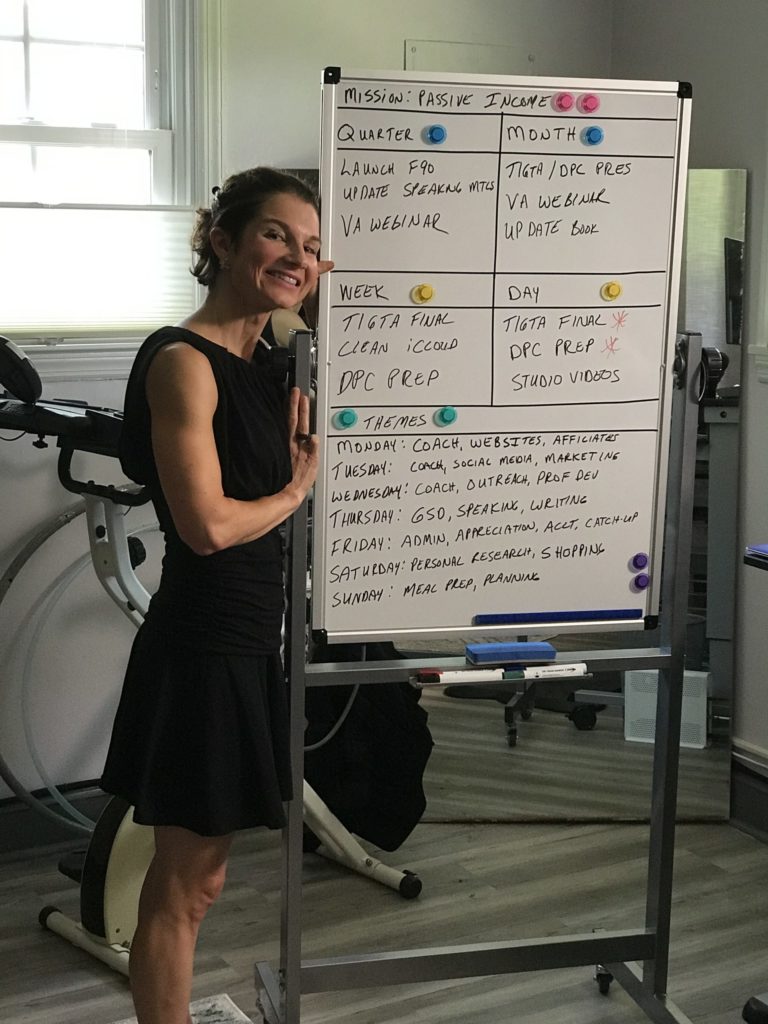 I added a ladder shelf with only things that I love from clients or friends and a few marketing pieces. I lost wall space due to windows, so I bought a reversible mobile whiteboard that I can use when speaking and for my own use. My new standing desk gave me space for dual monitors, and now I'm completely spoiled. I already had a standing desk, but it was narrow and didn't allow me to have all the technology. I don't think speakers should be sitting, even when virtual. Would you sit onstage? Stand up!
Mobile Whiteboard* – I keep my quarterly, monthly, weekly, and daily priorities on one side of the whiteboard and use the other for presentations. This hosts the Smart TV, and I can easily roll it out of the way when I'm not speaking.
Standing desk* – I like this one because it's adjustable and gives me plenty of space for all my tech and writing.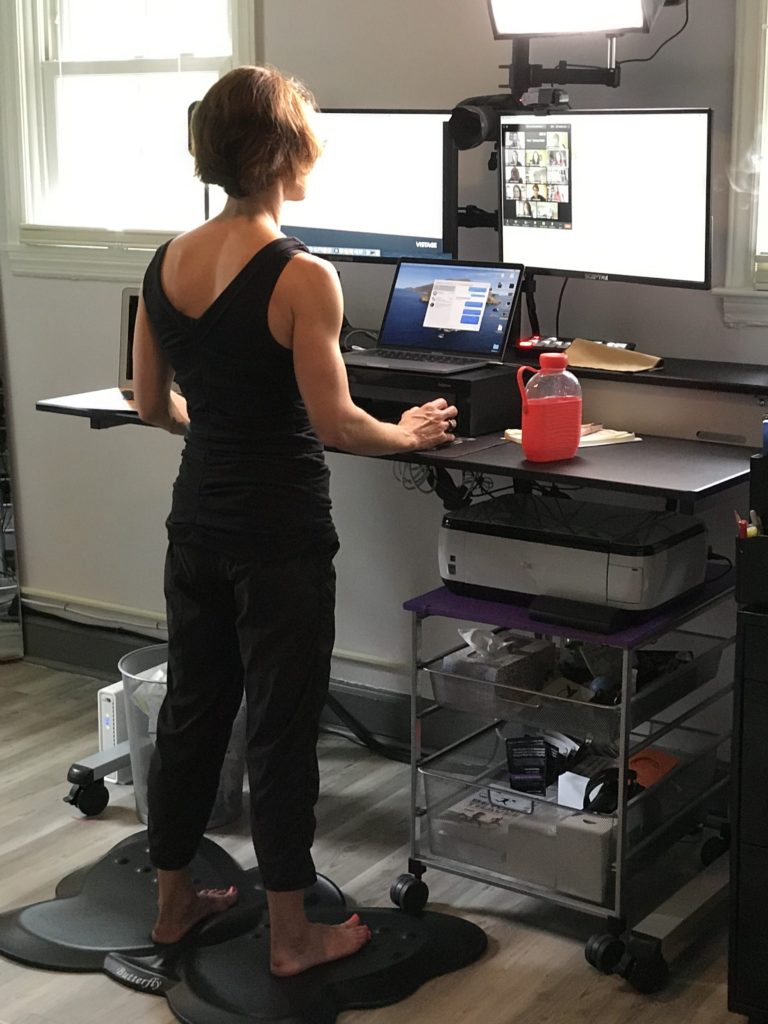 Technology for virtual speaking
I had no idea what to buy, so I relied on Evan Carroll from Attended Events to purchase and install the goods. He visited my house twice for set-up and training and did a quick emergency video session before my first virtual keynote. He was worth every penny not to research everything myself and just tell me what I needed to know, complete with an Amazon shopping list. It took some time to get used to, but I love my new setup!
MacBook Air – I run my slides off of my old Air. I see presentation view on the Air, and my slides are on the Smart TV.
MacBook Pro – I run the meeting and all the tech off of the Pro.
Sceptre Ultra Thin LED Monitor* – I have two of these external monitors. In total, I have five screens, and I use them all.
Logitech Brio webcam* – this is a back-up webcam.
ATEM Mini Pro switcher* allows me to go back and forth between the full slide, full me, and me in the corner of the screen.
Accessories for virtual speaking
Before, I didn't have anything natural in the office. Now I have plants, and I can't believe what a difference it makes! With my new office, I vowed only to have truly special or functional things. I love the lack of clutter.
Gardenix Self-Watering Pots* – I kill plants, so these self-watering pots were a real find.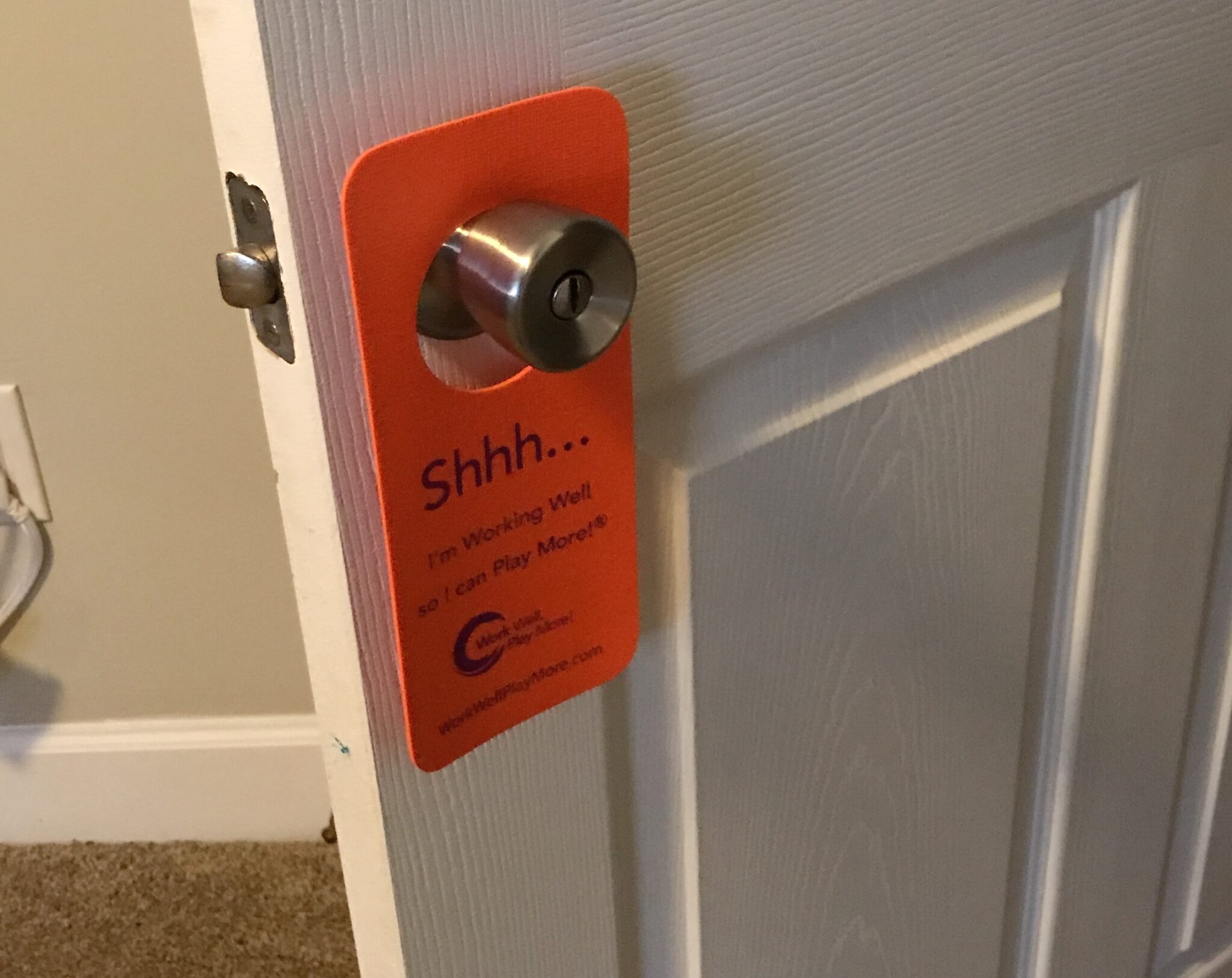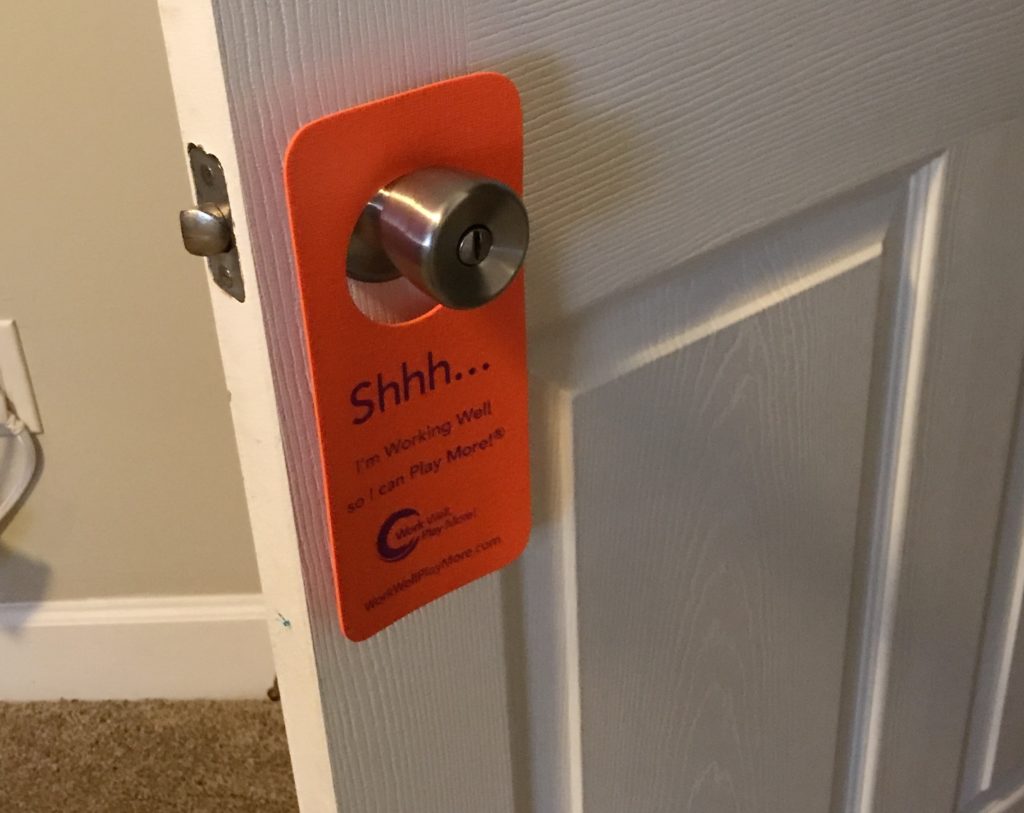 Door Hanger – I use this when I can't be interrupted by my husband. When the sign is on the door, I'm Working Well, so I can Play More!
I love my new office and set-up to speak virtually. I still prefer speaking live, but I am fortunate to invest to create an environment that allows me to speak more naturally and for my audience not to see a toy soldier or talking head on a screen.
If you need a speaker, check out my Topic Catalog. I can help you Conquer the Calendar, Master Tasks, Extinguisher Email, Amp up Your Energy, and Work Well Remotely!
*Items marked are an affiliate link where I receive a few coins at no extra cost to you.