Would you rather listen instead? Click here for a the 5-minute audio recording
In the 1930s and 1940s, the Ford Motor Company considered laughter a disciplinary offense. Humming, whistling, and smiling were considered insubordination. Henry Ford believed, "When we are at work we ought to be at work. When we are at play we ought to be at play. There is no use trying to mix the two." All work and no play?
Mr. Ford, you are a buzzkill.
Businesses know better now, and some even intentionally mix the two. Southwest Airlines is known for being funny and schedules fun events to keep employees motivated. They believe that Happy Employees = Happy Customers. British Airways once had a Corporate Jester for 18 months. When I think of a start-up company, I think of ping-pong tables, bean bag chairs, and a kegerator. Not what I consider fun, but it's an attempt and attractive to many people.
"The opposite of play isn't work. It's depression. To play is to act out and be willful, exultant and committed as if one is assured of one's prospects." -Brian Sutton-Smith, professor of education at the University of Pennsylvania.
My tagline Work Well. Play More! came about organically because I found myself saying it all the time. I used to wear The Badge. You know what I'm talking about.
I'll list a few here:
I Worked 60 Hours This Week badge
I Slept 4 Hours of Last Night badge. This was unintentional and due to medical issues, but I still used it as a badge to show how it didn't stop me.
I Must Eat My Meals While Multi-Tasking Because I'm That Busy badge.
Nothing Is More Important Than What I Am Doing badge.
A friend of mine said, "adults don't play anymore. We don't know how to play." I immediately disagreed with her because I play every day. Even when I wore my badges, I played. Play is subjective. No, I don't play on a playground because that doesn't seem fun to me. No, I don't play with Barbies because I left her behind at the age of 12. No, I don't have slumber parties because most of my girlfriends are married, have kids or other responsibilities, and getting 5-6 women together to spend the night somewhere takes a lot of logistics, and that's without any bra freezing.
What do I do that I consider playing?
I mountain bike, hoop dance, walkie-talkie, meet friends for coffee, listen to bands, play Skip-Bo with my husband, do crossword puzzles, and watch Netflix. There isn't a single day that I can think of that I didn't play in some way. I used to attend Hoop Convergence and hooped it up with my friend Lish. We attended hoop camp (yep, that's hula hoop to you non-hoopers) for four years, and if an adult hooping isn't playing, then I don't know what is.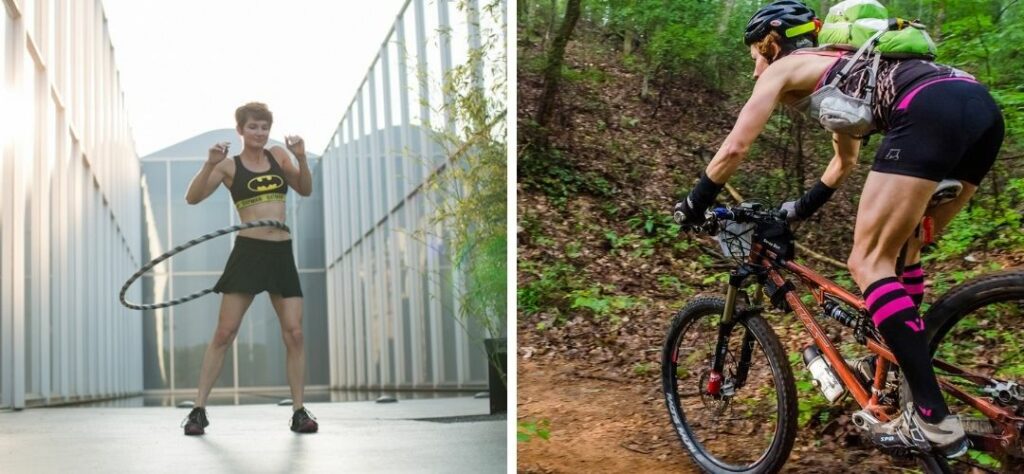 Play is a mindset. If you don't play, it's really your own fault. No one is getting in the way of playing but you. Maybe that means you need to reevaluate your lifestyle. Perhaps that means you need to GSD, so you have 20 minutes to do what you want to do. Maybe you need to hire a coach (ahem…) to help you get your act together and really figure out how to Work Well so you can Play More. Whatever it is, stop making excuses and do something about it. When I'm not having fun, it's no one's fault but my own.
What badges are you guilty of? What do you do to Play More?