I took my first vacation in 1.5 years in September to celebrate my 40th birthday.
I know…I know…the Work Well, Play More gal hasn't been on vacay?
Well, my husband and I certainly made up for it, with one of the best vacations we have had in YEARS.
As an entrepreneur one year in to my business, a few long-weekend trips and a couple of trips home to Indiana were all I could handle from the financial freedom fund. Right now I still work six days a week, but I love it. Even the months I made the big fat ZERO I loved it. I talk about my business all the time, how it can grow and how I can make it better. I read business and marketing books for fun and am in school for yet another certification.
But I needed to get away.
My 39th year was filled with medical diagnoses and family illness, as well as the ups and downs of starting a new business.
I chose San Francisco for our vacay because 1) I could use airline miles 2) perfect time of year 3) I could visit the Lift.do office and Marie Grace Berg 4) I would have no issue being active or eating with my Hashimoto's diet.
One thing I knew… I did NOT want to be one of those people constantly checking my email and working. I was on a conference call once with a guy who was on a Mediterranean cruise with his family. I think he was wearing the 'I'm such a loyal employee' badge, but all I saw was the "I'm such a pathetic employee' badge. You're in the freakin' Mediterrean!
I went into it with a plan that was fluid and stuck to it about 80%.
We arrived on Wednesday and I scheduled two business meetings on Thursday. I met with Marie Grace Berg of Today's Leading Women at Four Barrel Coffee (where there happened to be another couple from Raleigh – ha!), where we sat for two hours talking about how to grow our business. Even my husband was inspired by our excitement. Side note – we visited this coffee shop EVERY morning that we were here. It is FABULOUS!
My second meeting was with Lift.do CEO Tony Stubblebine at Lift headquarters where we discussed the new route they are taking with accountability coaching. I'm now going to be an AC for my two challenges – the 10 by 10® and 25 in 25®. The research on success rates for hiring an AC with Lift is impressive.
The rest of the trip I intended to work 25 minutes in the morning and 25 in the evening. I used my Focus Booster app and timed myself. Friday evening I ended up working two Pomodoros, but I still didn't check email throughout the day. I had my phone and text on Do Not Disturb the entire trip and had my husband check it a few times a day to make sure there wasn't something that was truly urgent.
Sunday I didn't look at email at all or even go online except to research some things about our trip. Monday I gave in to social media because it was my birthday and I wanted to respond to some of the messages. I also wanted to post some photos into Facebook and G+. I still didn't answer email or the phone and worked a total of two Pomodoros, including social media.
Tuesday was the flight home. I made sure I synced up my email so I could answer on the plane and then used the time to write blog posts, research, study for school, read and meditate. My plan worked well. I didn't miss anything important and my husband got to have me tech-free for almost a week.
Highlights of the trip:
We covered about 35 miles on foot over the six days. This is my favorite way to see the area and why I like to vacation in walkable cities.
Urban Hike from Urban Jungles – 2.5 hours of urban hiking starting at the Castro and walking up to the tower, through a Eucalyptus forest with stunning views throughout.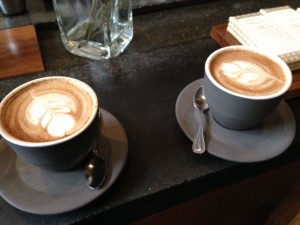 AirBnB – after staying right in the middle of the Mission district, I have no desire to stay in a hotel in a touristy area if I can help it. Our location was awesome and we had a full kitchen and w/d.
Drive to Point Reyes, hike down to the lighthouse and lunch in Fairfax, a darling town with a million cyclists. I was envious.
Every meal we ate was delicious. There wasn't one 'meh' meal. It was soooo easy for me to eat gluten-free and meat without hormones and antibiotics. Some of the restaurants we went to were completely gluten-free. For one week I got to forget I had Hashimoto's disease and not feel like I was putting someone out for having to cater to me.
Grayline Hop on Hop off bus tour. We waited over 40 minutes TWICE when it was supposed to be 20 minutes. The seats were uncomfortable and our driver was so scary that Kevin and I were laughing uncontrollably out of fear. This is only a highlight because we survived.
Erykah Badu – street concert in Haight-Ashbury. This is a highlight because I survived without getting trampled or getting swallowed up by her hair.
Bi-Rite Basil ice cream on my birthday. Yeah, basil ice cream. O.M.G.
Sliding down the concrete slide worn smooth by many butts over the years. How do you go so fast? Throw some sand on the slide and sit on a piece of cardboard. Click here for a fun gif!
Next time you combine work and play, have a plan going in when you will work and how you will handle emergencies.
Wanna know what food and essentials I packed for a week away? Click What's Marcey Packin'?
Know someone going to San Francisco or getting ready to vacay? Share this post!