Marcey Rader isn't just a Vistage speaker; she's a founding member of her own group! Marcey and her Team Specialists at Rader Co. have worked with Vistage companies and leaders to increase their personal and team productivity. Here you'll find the Vistage presentations she provides.
For a full list of the workshops and training she gives to companies, visit the Speaking Prospectus.
Get the Right Things Done to Work Well and Play More!
It doesn't matter if you're checking the boxes if the right ones aren't being checked. Marcey's most popular Vistage talk, Task Mastery, is perfect for members to help manage their priorities at work and home.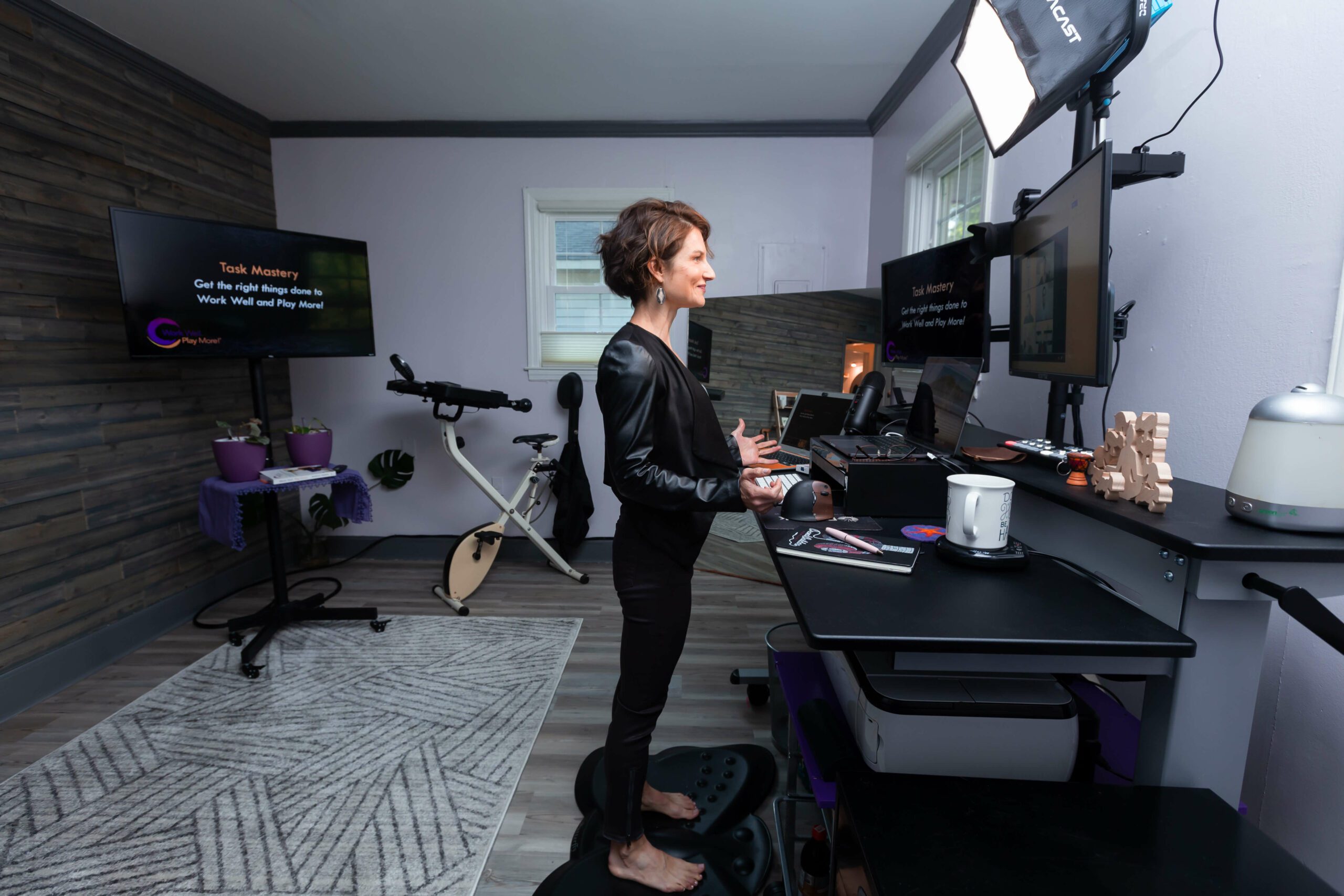 Marcey Rader has worked from home since 2001 and leads a team functioning from all over the globe. This workshop covers work, family, and digital distractions. You'll learn healthy habits to help you move more and reduce your screen-time and transitions to be fully present and recharged for the next day.
Simple Tips to Shrink the Inbox
Marcey loves to shrink the inbox so that Vistage members can work in their line of genius and focus on what matters. This covers Outlook and Gmail, the two most popular platforms, and behaviors for any system.
Healthy Habits for Real People
This award-winning presentation promotes healthy habits that don't involve hours in a gym, eating a boring diet, and chanting om on a mountain top.
are you ready to get results?
Marcey's real-world, practical advice will turn your annual meeting or company training into an experience with return on investment. Her speaking, coaching, and consulting programs give bottom-line results for personal and team productivity. She's privately coached Vistage chairs, members, and teams to Work Well and Play More!
Marcey is a wizard when it comes to email hacks to tame the inbox and never miss an important reply or deadline. She understands the unique burden the executives bear and can quickly give your people the tools to reduce the number that hit the inbox, improve response times to important outgoing messages, utilize a foolproof digital system for follow ups you need from others, 'task' emails straight from the inbox, deliberately process emails and improve their filing and search capabilities. Her email hacks work for both business and personal, Outlook and gmail. If you want immediate relief for your group members this is where you'll get it. Everyone will benefit, guaranteed.
Marcey provided a few simple but life-changing hacks that immediately gave me control over a facet of my life I felt I was drowning in. As I look at my now efficiently-organized inbox and have added order to my universe, I am perpetually reminded of Marcey's significant impact on my daily life. Thank you!
Outstanding job by Marcey Rader. I invited a bunch of employees to her Vistage webinar and received tremendous feedback. Tons of takeaways
I have already made some big changes and seeing fruits of the efforts. Thanks for challenging me to see my time as more valuable and giving me the tools to train better work habits so I can find more time to Play. You are appreciated, Marcey.
My clients are all CEOs and business owners and they are some of the busiest people around. Their business success and meaning in life depend on having plenty of vitality and that requires that they take care of themselves, others and get a lot of stuff done. Members got lots of great tools and I have seen the difference in their lives.
Marcey's ability to engage with all levels of our organization was very impressive. She joined our leadership team during strategy sessions and provided valuable insight into areas that would be beneficial to focus on for increased productivity. She asked pointed questions to help us identify areas for growth, and then tailored her message and presentation for our All Hands meeting to ensure it would meet our specific needs. She also provided a comprehensive and customized guide for our team to reference after the training. The overall response from the team after Marcey's training was very positive. Her energy was infectious and the tips and tricks she provided were very well received. We are already seeing positive improvements.
vistage feature
Time management guide for executives who don't have enough time.