This summer has seen some change in my business and the fall is about to go big with Lift, workshops, the 431 Project and the big 4-0. Check out the updates going on at MarceyRader.com: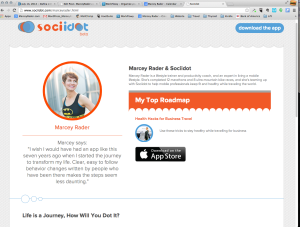 I started working with Sociidot and created three roadmaps.
"Health Hacks for Business Travel" in the Wellness Addict category.
"How to Have a Healthier Air Travel Experience" in the World Explorer category
"Work Hacks for Business Travel" in the Lean Entrepreneur category.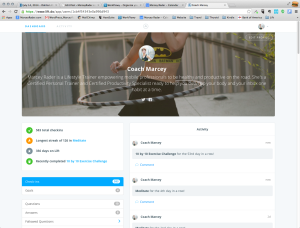 I became one of the pilot group of Accountability Coaches for Lift.do, where my 10 by 10® and 25 by 25® challenges are housed. In September I'll be visiting the Lift team at their headquarters in San Francisco. Can't WAIT!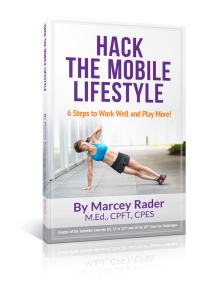 I gave away 387 free downloads of my book, Hack the Mobile Lifestyle: 6 Steps to Work Well and Play More to my community on my business anniversary, July 16!
I started working on my second book, Hack the Hashimoto's Lifestyle.
I was interviewed by the lovely Marie Grace Berg on my first year in business. I get to meet her loveliness when I am in San Francisco – yay!
My application was accepted to attend the 431 Project in September. I am BEYOND excited about this. The 431 Project is an exclusive group of industry leaders, executives and visionaries that convene annually to develop actionable plans to increase the physical activity, nutrition and overall well-being of Americans. It includes astronauts, technologists, screenwriters, CEOs, educators and lil' ol me.
Ted Talks meets Davos meets the National Geographic Channel.
I started my Hack My Gmail Intensives to get people out of email jail and find out just how extraordinary Gmail and Google Apps can be for business.
I have my biggest talks to date scheduled for September and October for the North Carolina Business Travel Association and the Association of Clinical Research Associates.
I signed up with PopExpert as a new platform for private coaching and hourly consulting.
I turn 40 on September 8 🙂
It's been a great year so far! Thank you for being part of my community and inspiring me every day!