All too often it seems running and work are fighting for your time and attention. Whether it's getting up well before the sun rises to get in some miles before your commute, turning down an office happy hour to make it to a run group on time, or missing your favorite race for an out of town conference, it can be hard to give both the attention you would like.
While it's good to separate your de-stressing hobby with your day job, there are a few ways to combine the two and make running work to your advantage in the office. Enter….sweatworking!
*This is a guest post by Dan Chabert

Give a New Meaning to Happy Hour
Going for a drink or bite after work is the go-to way to connect with your coworkers, but it often conflicts with your running schedule and certainly won't help keep you in shape for your next race. Rethink Happy Hour and connect on the run! You probably know a few runners in your office, but even if you don't, send an email to those you feel would be interested, inviting them to go for a run after work.
Running is a comfortable way to get to know others you only talk to in the office. It's easy for the conversation to flow when the endorphins are pumping, and the pressure of the workplace is gone. Even if you get one person on board, you can quickly make it a weekly routine and slowly grow your group! Keep in mind you don't have to limit your workplace runs to after work. Meeting up for a quick run before work (if you have showers in the office) or on the weekends is a great way to build your relationships with those you work with while keeping running at the forefront of your schedule. You never know what closet runners you work with until you ask!
Incorporate a Brainstorming Run
There are a few ways to incorporate the creative power that comes from a run into a career booster. If you're running solo, go sans headphones or play ambient/background music either on a set schedule like once a week or every morning, or head out at lunch when work overwhelm is getting to you. Focus on the biggest issue you're facing at work and simply think on it. It can be surprising the fresh perspective you can get when you're not staring at your screen or sitting in a meeting.
Another way to attack a problem is inviting a co-worker or another runner friend with expertise in the area you're struggling, on a relaxed run to talk things through. This is different from a meeting because you don't have a particular agenda, and aren't determined to reach a solution by the end. You don't have to force ideas for solutions, but often talking aloud about your thoughts on the issue with someone else involved or knowledgeable can bring about a new way to view the problem and solutions.
Talk Shop at a Run Group
Whether you're a regular face at a weekly run group, or go to community running events when they suit your schedule, make a point to introduce yourself and at least mention what you do. I've made strong connections through running that have influenced my career in many ways. You may meet someone in your industry that opens a door for your next career move, or connect with another runner at a company that aligns with your organization's mission.
No one wants to be badgered about job opportunities or feel they're being "sold" on a fun run, but it is beneficial to let people know what you do, and if you're looking for a new opportunity when it comes up. Make a point to ask others what they do, even if you don't talk about work, you may find possible connections for down the road.
Teambuilding and Corporate Giving
Icebreaker and teambuilding activities are generally cringe-worthy. But it doesn't have to be that way! Get a team on board to represent your office in a 5K. It's a convenient distance for new or new runners, and a fun challenge for regular runners, and puts everyone on track for the same goal. Up the ante and choose a charity to support by fundraising as a team! This gives everyone a purpose beyond the run and is a wonderful way to get your company involved in the community.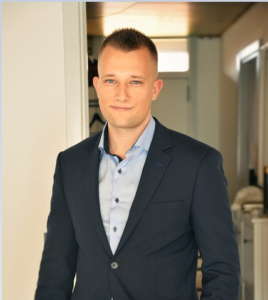 Writer Bio
Dan Chabert
Dan Chabert is an entrepreneur, husband, and ultramarathon distance runner. Aside from running, he spends most of his time guest posting for popular running blogs and managing runnerclick.com, monicashealthmag.com & nicershoes.com.