The 25 in 25® is still going strong!
This week was super-exciting for me because my plan was featured in an article in Business Insider and San Francisco Chronicle.  The writer, Julie Bort, is still going strong with her 25 in 25 ®!
@DaveWinningham says "I can see the finish line. This challenge has been great!"
Paul J Stinson, Durham's Favorite Realtor, says "Thanks to Marcey I walked in the airport instead of sitting at the bar."
CatetheGreat @catestew is going strong on her 'dreadmill' and rakin' in the miles before 6am!
Huge shout out to Rubberbanditz and Sprigs for donating prizes. Will you be one of the receivers of these lovely gifts?
I woke up at 4:30am on 12/23 to do the 25 in 25® with my Mom, Darla Shore and Jennifer Davis, who have been doing P90X every morning at 5:00am. I'm so proud of them for doing this every morning, bright and early before work!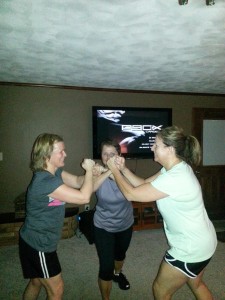 Don't forget prize winners must check in on December 25 and post via social media on www.facebook.com/marceyradercoaching or tweet @marceyrader with the hash tag #25in25.
I also have a BRAND new plan that I'm excited about! If you are ready to make a healthy daily habit that will only take ten minutes but can change your life. Take a deep breath and click below!