The 25 in 25 ® was a success!
My goal from the start was 100 participants in the 25 in 25 ®. Seeing the numbers move up to 798 people was exciting and inspiring. I looked forward to reading the messages every day from around the world.
Yahoo! 25 days in a row. Thanks Coach Marcey for leading a great challenge. It was surprisingly motivating and the positive reinforecment was/is much appreciated! – Jamie Gaskill-Fox

Only got in about 30min today due to the holiday but I'm so proud to have achieved my goal of consistency. Thanks Marcey! – Brette Brickell

My goal is to try to keep this up. Everyone should be able to do at least 25 mins a day to get healthy, right? Hope you all enjoyed doing the 25 in 25® w/ Coach Marcey. She makes it seem possible for anyone to do this. Thanks Monkey Marcey – Mom

Done! Because of the 25 in 25® I broke up my running routine and diversified w/ TKD, capoeira, yoga, pilates etc. Thanks Marcey! – Dr. Loan Huynh
The original 25 in 25® group all made it this year with the addition of my niece Ava and my girlfriend in-law Angie!  I gave them all Simply Stashed.  My husband uses two Gear Pockets to store his music equipment and we both have two in the garage.  The Simply Stashed I use in my office.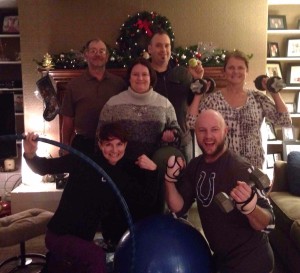 Seeing everyone check in all day on the 25th was a real bright spot because after driving 10 hours to Indiana I got the flu and spent Christmas Eve night sleeping on the bathroom floor and Christmas Day in bed while my family celebrated. Thankfully, I got to spend a few hours with my nieces before getting pukey.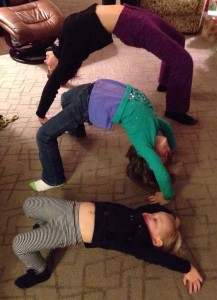 Winners for the 25 in 25®
@CateStew – Rubberbanditz Deluxe Mobile Gym Kit in a bag valued at $74.95
Dave Winningham – Rubberbanditz Standard Mobile Gym Kit in a bag valued at $59.95
David Prang – Rubberbanditz Basic Mobile Gym Kit in a bag valued at 444.95
Julie Bort – Sprigs Big Banjee
Don Childrey – Sprigs Water-Resistant Phone Banjee
Susan Hendershot Guy -Sprigs Big Banjee
Jonathan Creaseman – Sprigs Touch Mesh Banjee
Jamie Gaskill-Fox -Sprigs Fleece Banjee
Brette Brickell – Sprigs Texting Gloves
Jason Cook – Sprigs Touch Mesh Banjee
Asha Bohannon – Sprigs Multi-Mitt
Winners were announced via Facebook and Twitter on Dec. 27. Please send your mailing address by January 3 or the prize will be given to the next random winner!

Don't forget about my 
BRAND new plan 
to make a healthy daily habit that will only take ten minutes but can change your life. Take a deep breath and click below!